Nowadays there are multiple ways to straighten and perfect your smile. The question is, "which option is best for you? " Invisalign™ and traditional braces, including self-ligating, are the most common technologies to get the job done, but how do you know which one to choose? Dr. Penny will let you know if either or both options are available for your set of teeth. Here are some important points that you need to consider before making your final decision.
How self-disciplined are you? Although Invisalign™ is great due to its discreetness and comfort level, you will have the ability to take the "trays" out while eating, drinking, or cleaning your teeth. So…will you remember and have the discipline to put them back in? If the Invisalign™ trays are not worn for the correct number of hours per day, the treatment will be very slow or ineffective. If you think you may not be diligent about following these rules, traditional or self-ligating braces may be a better choice for you.
But, Invisalign™ does have a great deal of perks. If seeking a straightened smile has been prompted by one of life's important events such as your wedding day, you can count on Invisalign™ for a nearly invisible treatment. You'll look back at your photos and forget that you even had braces during that time. Along with discreetness, Invisalign™ is made of smooth, pliable plastic that is easy on your gums. Furthermore, the ability to take the trays in and out to brush and clean your teeth as usual will allow you to maintain proper dental hygiene.
If you are a teen or a parent with a teen who is seeking braces, Invisalign Teen ™ has an added benefit! Up to six replacement aligners (trays) are included in the price in case they are lost or broken.
Braces have pros and cons as well. For those of you who may require a reminder to stay on top of your braces treatment, the benefit is that you can't take them off. Once they are on, they are on…and this, the braces being attached to you 24X7, provides an edge on efficiency. Choosing braces over Invisalign™, however, will change your eating habits during your orthodontic treatment. Although the brackets are strong, they can be broken off (un-glued) by biting into hard foods such as nuts or carrots. You will have a list of foods that you will need to avoid and other foods will need to be softened or cut up into small pieces. Do not worry; you will quickly adjust. We promise. You will need to be self-disciplined in the sense that you will need to be diligent about wearing any rubber bands that your doctor is using to maneuver your teeth. As with Invisalign™, if you don't cooperate with eating habits or elastics wear, you will slow down your treatment.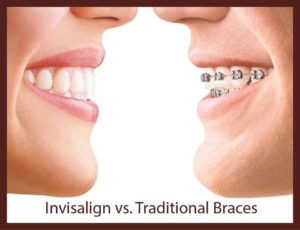 Another issue with Braces is that brushing and flossing are more difficult. You will need to follow your doctors brushing instructions to keep your teeth and gums healthy during your treatment. Your orthodontics' office will have suggestions on products that will make cleaning easier during your treatment.
Considering these differences between Invisalign™ and braces, along with the recommendation from Dr. Penny, will lead you to the decision that is best for you. Either way, stay diligent during your orthodontic treatment and you will have the beautiful smile you've always wanted in no time!
Cade Orthodontics office is in Winter Garden Florida: Dr. Penny Laowansiri and her team will help you make the most knowledgeable orthodontic decision for you. Reserve your complimentary consultation today by calling 407-656-0990.
Source:
When Choosing An Option for Straightening Your Teeth. [Invisalign™ Homepage]. (2013, December 3). Retrieved from http://www.invisalign.com/why-invisalign/advantage-over-braces